Press Release Blog
NEWS, IDEAS, AND INSIGHTS FROM THE SIRION TEAM
SirionLabs July 2020 Newsletter
Hot off the press! Our July 2020 newsletter is out now. Features updates on our new webinar with IACCM and KPMG, the SirionAE product launch, our ongoing live demo series, a new blog on building a cross-functional business case for AI-enabled auto extraction, and more…
[Webinar Alert] Unveiling the Full Iceberg: How AI is Changing the Contract Analytics Game

Just like an iceberg, a large portion of the enterprise contract portfolio remains hidden. This exposes businesses to legal and regulatory risk, operational inefficiency and financial leakage. The good news is that AI is addressing these challenges through next-gen auto-extraction and contract analytics technologies. Join us for our new webinar featuring experts from KPMG, IACCM and SirionLabs to discover how AI-powered contract analytics is enabling better supplier / customer management, risk mitigation and value realization for enterprises.
[Product Launch] SirionLabs Launches AI-powered Auto-extraction and Contract Analytics Platform – SirionAE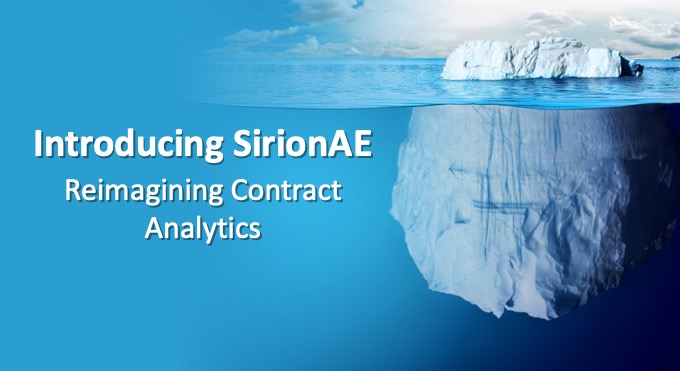 SirionAE offers the most advanced contract AI in the market today to expedite search, review and analysis of contracts by transforming static text into actionable insights. Gain full visibility into contractual risks, entitlements and obligations – at 5X the speed and 50% of the cost of legacy alternatives. Whatever be your use case – contract repository digitization, risk assessment, M&A due diligence, supplier management or regulatory compliance – SirionAE is the surest, fastest and most cost-effective way to succeed.
[Webinar Recording] Transforming Vendor Performance through Innovative Contract Management
In 2020, innovative new contract management strategies and technologies are changing the way procurement, legal and contract management teams collaborate with vendors transforming performance and value realization in vendor engagements. Watch this webinar featuring experts from Ardent Partners and SirionLabs to discover the latest contract management trends and the key findings from Ardent Partners' forthcoming report.
[Product Demo] Get Real with Sirion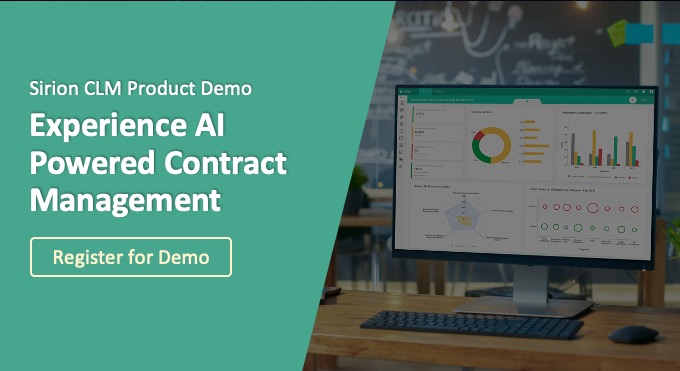 Leave behind the legacy analog CLM experience and discover the possibilities with Sirion's next-gen CLM technology! Sign up for a 30-min, no-obligation demo to discover why Sirion CLM is trusted by several of the world's largest corporations such as Unilever, Credit Suisse and BP. Multiple scheduling options available to suit your availability and time zone.
[Blog] Pairing Form and Function: A Cross-Functional Business Case for AI-enabled Auto Extraction

The better an enterprise understands their full contract portfolio and can learn from the efficacy and enforceability of past and present contracts, the more value future agreements will be able to deliver. Read this blog to learn how AI-powered contract extraction benefits cross-functional teams throughout the entire lifecycle of a contract.
Thanks for reading. If you liked our newsletter, do forward it to your friends and colleagues.
SirionLabs is a Leader
2022 Garner Magic Quadrant for Contract
Lifecycle Management
GET THE FULL REPORT
See SirionOne in Action
One Platform for your Complete Contract Lifecycle Management Journey
SCHEDULE A DEMO
COMMENTS